Assalamualaikum.... Ekceli nak update blog semalam sebab baru la seswai dgn Earth day,kan tapi tak sempat... kiranya qada' arini pun buleh la kan? :) So, memandangkan smalam sambut Hari Bumi, daddy n the gang buat projek tanam pokok.. At least walaupun kekanak ni tak paham sangat pasal Earth day ni, sekurang2nya ada inisiatif gak untuk dioarang ni seronok2 tanam pokok,kan? hehhehe.. Hafiy mmg enjoy sangat. Sampaikan before nak tido malam pun nak jenguk kat luar tingkap dulu sebab nak tengok pokok2 yg dia tanam tu...
Ok, enjoy the pic :)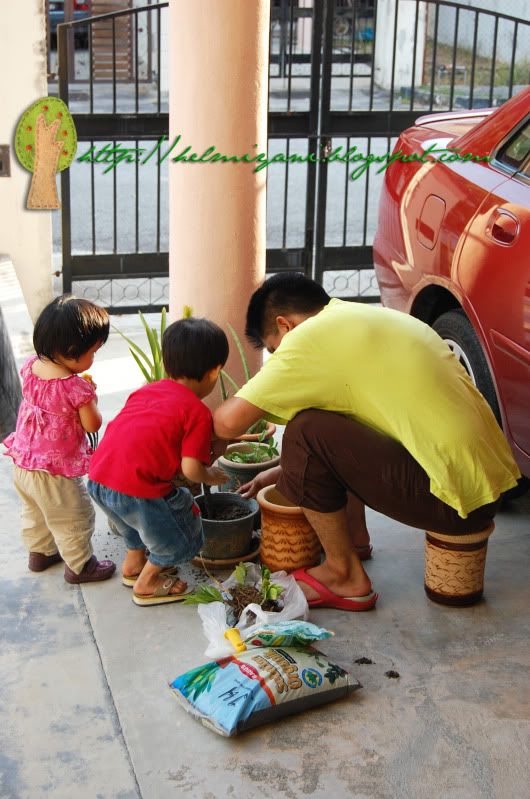 Adik Yin plak awal2 aje nyebok pastu dah tak hirau dgn pokok2 dah.. dok kutip batu nak makan aje.. geram betul! pastu bila ibu or daddy nak marah, pandai plak dok lari2 sambil jerit ' ayi, ayi, ayi....' (lari,lari, lari)...sabo je la!
Bila dah sampaai time nak siram pokok, barulah adik yin nak join balik daddy ngan abang hafiy.. Bukan takat siram, pokok2 tu dah macam kena banjir dah plak... hahahaha
Ok siap misi hijaukan bumi :) tata....